Register now! There are stil places available at the CARE-North plus Final Conference!
The conference will take place on
April 15-16th, 2015
in Bremen, Germany
at the centrally located Maritim Hotel Conference Centre.
The conference will highlight comprehensive, strategic and practical approaches to urban and regional transport/accessibility generated in and for the North Sea Region and offer a surprise or two. The event will feature a series of guest speakers, including Susan Zielinski , Managing Director of SMART (Sustainable Mobility & Accessibility Research & Transformation) at the University of Michigan and Marcelo Cintra do Amaral, transport planner of the City of Belo Horizonte (Brazil), which was awarded the Sustainable Transport Award for its ambitious BRT and cycle plans in January 2015.
You will learn about sustainable mobility solutions directly from the CARE-North plus partners as they share their experiences about developing a cycling culture in their region, making the most of the potential of electric mobility, discussing scenarios about long-term trends that will change the face of mobility in the future and much more!
On the second day of the event, we will dive deeper into the world of shared mobility and discover the opportunities (and some discussion points) car sharing presents for cities of all types.
Participation is free but registration for the event via the CARE-North plus website is requested. Register here!
You can download the draft programme below (see attachment).
We look forward to your participation!
Questions? Feel free to contact us at: care-north@umwelt.bremen.de or +49 421 361 59427.
March 24th, 2015
Terschelling is a Dutch island in the Wadden Sea and has around 4800 inhabitants.
100 electrical cars, Nissan Leafs, have been made available for the inhabitants as part of one of the biggest car sharing projects ever to take place on an island.
The car sharing project and living lab solution has been initiated as an attempt to combat the high number of private cars on the island. Car sharing is cheaper and uses less valuable public space than the ownership of private cars. The latter aspect is particularly relevant on an island!
The inhabitants of the island can use a special app to make their reservations. Tourists, on the other hand, can book a car when they make reservations for the ferry to the island. It's the first time a whole island can use a fleet of cars. Charging points will be realized all over the island to make the use as easy as possible.
For more information, you can contact Roos Geelhoed, Provincie Fryslân, at r.geelhoed@fryslan.nl.
March 18th, 2015
On March 11th, 2015, Autopia and Taxistop invited 25 "great minds" to create scenarios for autonomous cars and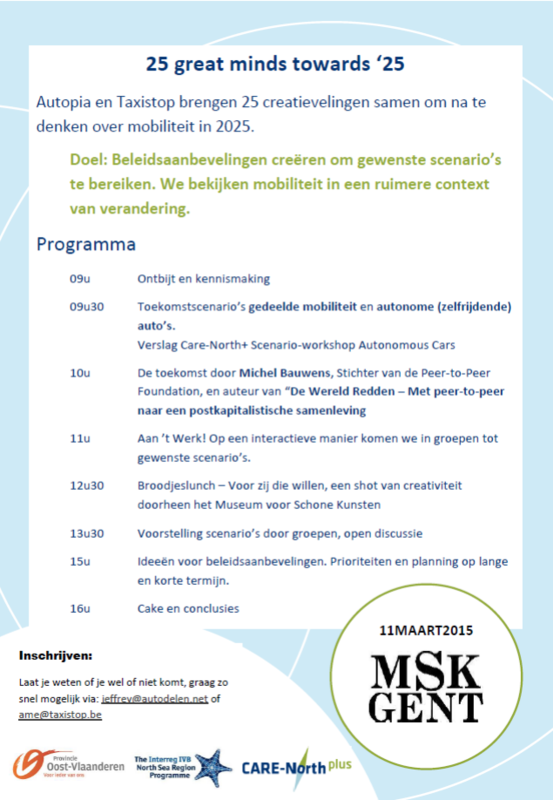 recommendations about how to remain on track with regard to sustainable mobility should autonomous vehicles become part of daily life in the future. The workshop, held in an art museum, was a continuation of the "Autonomous Transport Scenario Workshop" hosted by the city of Bremen in January 2015 with the aim of creating awareness for the subject in Flanders.
The 25 "great minds" were selected from different backgrounds. As the impact of autonomous cars could go far beyond the topic of transportation, philosophers, economists, and politicians were also invited in addition to transport planners. Among the participants was a member of the Flemish Parliament, a professor of entrepreneurship, a representative from the Belgian automotive association, public transport, the national railway, one member of each of the major political parties and transport researchers.
Jeffrey Matthijs (Autopia) opened the workshop with a general eye-opening presentation about the current status of the autonomous cars developments. Angelo Meuleman (Taxistop) presented outcomes from the workshop in January. After these presentations, Michel Bauwens gave a keynote presentation about an economic transition towards a peer-to-peer economy. Michel Bauwens is founder of the peer-to-peer foundation, and an international authority. He is listed at #82, on the Post-Carbon Institute (En)Rich list,http://enrichlist.org/the-list. In the same list you can also find Mahatma Gandhi, and at nr 1 E.F. Schumacher.
The purpose of inviting Michel Bauwens was to inspire ideas about how a society and its priorities can also change. A changing society also impacts transport and vice versa.
At the workshop, 3 different groups were invited to draw their utopia: their most likeable future scenario. In every
group, words such as equality, open data and shared mobility were very often used. In one group, a comparison with the energy market was made. After opening the market, the power of energy companies stayed very much concentrated and transition towards green production was very slow. However, today, we see more and more decentralised production by cooperatives in several countries. Consumers are regaining autonomy and transition is increasing.
During the second portion of the day, the groups wrote down policy recommendations to be taken on a short or longer term. Some of the recommendations for policy makers regarding how to deal with developments in autonomous transport were:
A condition to enter the market: Data about mobility patterns, road infrastructure has to become public.
It's not just about cars: always focus on modal shift and do not forget to integrate a modal shift to walking, cycling and public transport in future plans.
Give pilots a chance: create the right legal and technological conditions and focus on shared use of the cars.
It is planned to publish a report that summarises the main themes of the day.
February 18th, 2015
Participants at the first Breakfast at Sustainability's meeting of 2015, hosted in Brussels on February 4th, concluded that it is not enough to "like" sharing, it is important to integrate it as a serious component of urban transport planning. The challenges and successes of European transport sharing initiatives were discussed, including bike sharing, car sharing and transport pooling.
Pamela Mühlmann Coordinator in ICLEI's Governance and Social Innovation team stated: "We've seen how local governments work with citizens to achieve long-lasting, sustainable outcomes that benefit their communities. Ideas and concepts highlighted today have the potential to assist the implementation of transport sharing projects across Europe".
Speakers at the event included: Patrick Auwerx, European Platform on Mobility Management (EPOMM), on "What does sharing mean in a mobility network?"; Jan Vermeulen, Mayor of Deinze and Chairman of the Flemish Cycling Embassy, Belgium on "A promising approach for sustainable mobility"; and Michael Glotz-Richter, CARE-North plus, City of Bremen, on "Car sharing in Bremen, a real success story".
February 4th, 2015
In January, transportation experts, researchers and planners came together in Wremen, on the shores of the North Sea, for a three day, in-depth scenario workshop on autonomous transportation. While vehicle manufacturers and research institutions are hard at work creating and testing first iterations of autonomous vehicles for various settings and purposes for the market in the near future, this is a topic that has been largely untouched on by transportation planners and politicians. As the internet has revolutionised the way we communicate today, developments in autonomous transport have the potential to drastically change the way people and goods are moved and may shape the cities and regions of the future in unimaginable ways. The workshop, organised by the City of Bremen, brought participants together to learn more about current research being conducted around driverless vehicles and to discuss potential benefits, risks and opportunities of automated transportation on urban, rural and freight transport as well as how such developments could influence jobs and the market economy of the future and potential legal implications.
The results of the scenario workshop will be presented at the upcoming "On the Move" CARE-North plus final conference and published in the form of a paper soon.
January 19th, 2015
The Belgian umbrella organisation for car sharing, Autopia, created an innovative and successful concept from a simple idea: It all started with a little survey in 2013 concerning the car fleet of local governments. The result was that these fleets are far underused. On average, three out of four governmental cars are driven less than 10,000 km/year. Four out of five of these vehicles are not being used outside of office hours. These results led to the concept of sharing governmental fleets with outside of office hours and on the weekend with residents from surrounding neighbourhoods.
The beauty off the system is that it is suitable for smaller cities where traditional car sharing providers are reluctant to operate, due to economic limitations. With this system, there is no need to invest in expensive new cars. Additional benefits included that the shared cars are mostly more environmentally-friendly vehicles (40% electrical and 15% CNG vehicles) and the introduction of sharing of governmental fleets serves as general promotion of the car sharing philosophy.
In larger cities (where a car sharing provider is already based) that desire to implement such a sharing scheme, Autopia leaves it first to the car sharing provider. Why? By putting city cars into the providers' fleet on the weekend, the car sharing provider is able to offer more cars at peak moments which is good for offering better services and a variety of vehicles.
At the moment, 10 Belgian small-town governments are sharing their own car fleet with citizens with the support of Autopia. Four larger cities are working together with the car sharing provider cambio to share their governmental fleet. In the following video, the scheme for sharing a fleet of a small village (Schoten, 8.000 habitants) is explained by the counsellor and a user:
So, whether your city is big or small, there are no more excuses for not providing car sharing in one form or another. Start today by giving the good example to your citizens and share that fleet!
More information jeffrey@autodelen.net and www.autodelen.net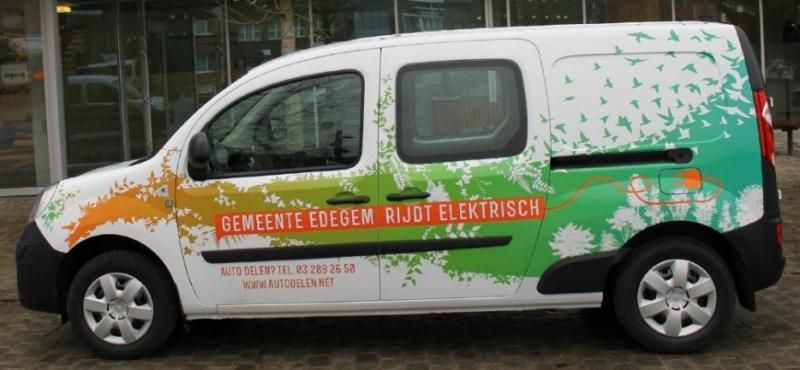 January 13th, 2015
AVIRA is a Belgian acronym for "Autodelen Voor Iedereen met Rolstoelvriendelijke Auto's" (Car sharing for everybody with wheelchair-friendly cars). The name also stands for harmony, balance and a positive view of life. This is exactly what the concept is aiming for. The goals of car sharing concerning the environment and sustainable mobility are being linked to the goals of the UN Convention for the Rights of Persons with Disabilities.
How it works
A wheelchair-friendly car is far underused and mostly only one or two people use a single adapted car. To optimise the level of use, the cars can be shared with other disabled persons and the nearby living neighbours. In this way, disabled persons become better integrated in their neighbourhood and the cars can be used by different people. This is the perfect match between goals in terms of fewer cars, fewer CO2 emmissions, more space, more use of public transport and goals concerning social inclusion and accessibility for disabled persons. The Belgian umbrella organisation for car sharing created a method to introduce this concept in an easy and structured way. Organisations, care centers and persons with disabilities get full support from Autopia to introduce this innovative car sharing concept in their neighborhood.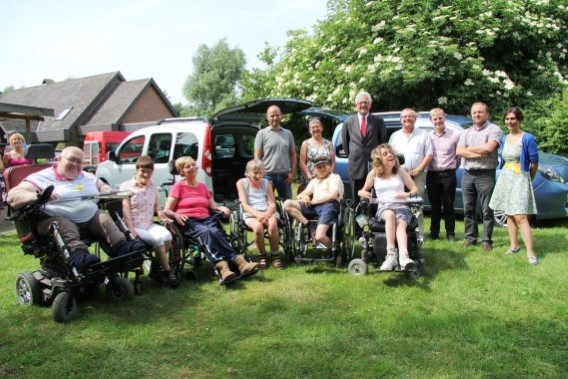 Environmental and social impact
Currently, around 10 wheelchair friendly cars are being shared in 5 pilot projects. One project has been running for 1.5 years and the results are better than expected. 35 people are using two adapted cars, amongst them 17 neighbours. 70% of the users living in the care center say that they have more contacts with neighbours since the project began. There is still a lot of work to ensure AVIRA can make a real impact on society. The Belgian law has to be adapted to this car sharing system (insurance-, tax- and administrative issues), the volunteers system requires additional structuring but governments, care centers, neighbours and persons with disabilities are very enthusiastic about the idea and making these changes. Autopia is aiming for 30 running AVIRA-projects by the end of 2016 in Belgium and pilot projects in at least 3 other European countries.
If you are interested in starting this kind of project in your own country, contact jeffrey@autodelen.net.
Video
The people from the first AVIRA-project (care center "Pegode") made a movie about their experiences with AVIRA-project to promote the concept in Europe. Enjoy this heartwarming video!
December 12, 2014
The date for the CARE-North plus Final Conference has been set for
April 15-16th, 2015
and will take place at the Maritim Hotel in
Bremen, Germany.
Registration for the conference, hotel recommendations and a preliminary conference schedule will be made available for on the CARE-North plus website shortly.
If you have any questions, please contact the project team at: care-north@umwelt.bremen.de
November 4, 2014
This week, at the 10-year cambio car sharing anniversary in Ghent, Belgium, Filip Watteeuw, City Counsellor for Transport, announced the Ghent Car Sharing Action Plan with the aim of having 20,000 car sharers in Ghent by 2020. Today, Ghent has 4,000 car sharing users, members of peer-to-peer and fleet owning car sharing operators.
The City of Ghent was inspired by the City of Bremen, who has the same ambition (http://www.care-north.eu/news/latest-news/european-sustainable-energy-aw...).
How Ghent got inspired?
Last February, during the CARE-North plus project meeting in Ghent, the partner Taxistop took advantage of the presence of the sustainable mobility experts by organising an evening event with presentations from the cities of Bremen and Malmö. Michael Glotz-Richter from Bremen presented Bremen's Car Sharing Action Plan to political representatives and the public of Ghent. Among the participants was Ann Plas, a representative of the City Counsellor for Transport in Ghent.
The Ghent Car Sharing Action Plan is part of a comprehensive mobility plan. Today, Ghent has 138,000 cars for 250,000 inhabitants. In the next years, Ghent expects the population to grow by 20,000 new inhabitants. To deal with the increasing number of cars, the city of Ghent has decided to implement an ambitious Car Sharing Plan. Ghent will organise various campaigns, increase the number of car sharing stations, give financial incentives to car sharing users, reduce the city car fleet and integrate car sharing into new city developments.
Later this year, representatives from Bremen and Ghent will meet each other to exchange experiences.
For more information, you can read more in the local media:
http://deredactie.be/cm/vrtnieuws/regio/oostvlaanderen/belga_20141013_ge...