Registration for the CARE-North plus Final Conference is now open!
The conference will take place on
April 15-16th, 2015
in Bremen, Germany
at the centrally located Maritim Hotel Conference Centre.
The event will highlight comprehensive, strategic and practical approaches to urban and regional transport and accessibility generated in and for the North Sea Region. Shared mobility, developing a cycling culture, provocative scenarios about the future of urban mobility and the potential of e-mobility have, among other things, been a focus of the project and will be shared with you on day one of the conference. We are pleased to announce our special guest speaker: Susan Zielinski , Managing Director of SMART (Sustainable Mobility & Accessibility Research & Transformation) at the University of Michigan.
The second day of the conference will focus on the theme of car sharing and related successes from the CARE-North plus project.
We look forward to your participation!
Register here!
(The conference programme will be available soon)
January 19th, 2015
The Belgian umbrella organisation for car sharing, Autopia, created an innovative and successful concept from a simple idea: It all started with a little survey in 2013 concerning the car fleet of local governments. The result was that these fleets are far underused. On average, three out of four governmental cars are driven less than 10,000 km/year. Four out of five of these vehicles are not being used outside of office hours. These results led to the concept of sharing governmental fleets with outside of office hours and on the weekend with residents from surrounding neighbourhoods.
The beauty off the system is that it is suitable for smaller cities where traditional car sharing providers are reluctant to operate, due to economic limitations. With this system, there is no need to invest in expensive new cars. Additional benefits included that the shared cars are mostly more environmentally-friendly vehicles (40% electrical and 15% CNG vehicles) and the introduction of sharing of governmental fleets serves as general promotion of the car sharing philosophy.
In larger cities (where a car sharing provider is already based) that desire to implement such a sharing scheme, Autopia leaves it first to the car sharing provider. Why? By putting city cars into the providers' fleet on the weekend, the car sharing provider is able to offer more cars at peak moments which is good for offering better services and a variety of vehicles.
At the moment, 10 Belgian small-town governments are sharing their own car fleet with citizens with the support of Autopia. Four larger cities are working together with the car sharing provider cambio to share their governmental fleet. In the following video, the scheme for sharing a fleet of a small village (Schoten, 8.000 habitants) is explained by the counsellor and a user:
So, whether your city is big or small, there are no more excuses for not providing car sharing in one form or another. Start today by giving the good example to your citizens and share that fleet!
More information jeffrey@autodelen.net and www.autodelen.net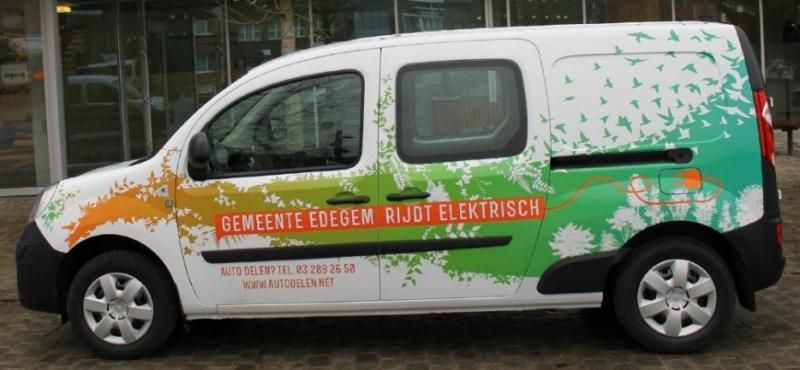 January 13th, 2015
AVIRA is a Belgian acronym for "Autodelen Voor Iedereen met Rolstoelvriendelijke Auto's" (Car sharing for everybody with wheelchair-friendly cars). The name also stands for harmony, balance and a positive view of life. This is exactly what the concept is aiming for. The goals of car sharing concerning the environment and sustainable mobility are being linked to the goals of the UN Convention for the Rights of Persons with Disabilities.
How it works
A wheelchair-friendly car is far underused and mostly only one or two people use a single adapted car. To optimise the level of use, the cars can be shared with other disabled persons and the nearby living neighbours. In this way, disabled persons become better integrated in their neighbourhood and the cars can be used by different people. This is the perfect match between goals in terms of fewer cars, fewer CO2 emmissions, more space, more use of public transport and goals concerning social inclusion and accessibility for disabled persons. The Belgian umbrella organisation for car sharing created a method to introduce this concept in an easy and structured way. Organisations, care centers and persons with disabilities get full support from Autopia to introduce this innovative car sharing concept in their neighborhood.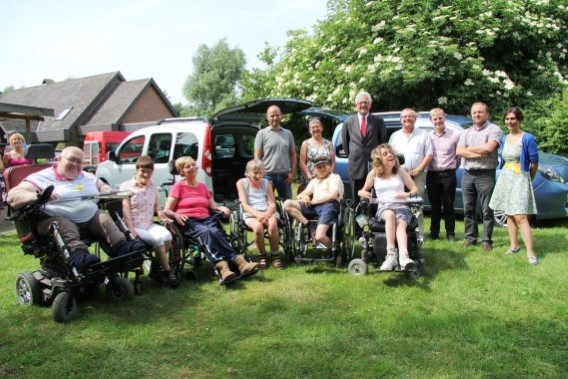 Environmental and social impact
Currently, around 10 wheelchair friendly cars are being shared in 5 pilot projects. One project has been running for 1.5 years and the results are better than expected. 35 people are using two adapted cars, amongst them 17 neighbours. 70% of the users living in the care center say that they have more contacts with neighbours since the project began. There is still a lot of work to ensure AVIRA can make a real impact on society. The Belgian law has to be adapted to this car sharing system (insurance-, tax- and administrative issues), the volunteers system requires additional structuring but governments, care centers, neighbours and persons with disabilities are very enthusiastic about the idea and making these changes. Autopia is aiming for 30 running AVIRA-projects by the end of 2016 in Belgium and pilot projects in at least 3 other European countries.
If you are interested in starting this kind of project in your own country, contact jeffrey@autodelen.net.
Video
The people from the first AVIRA-project (care center "Pegode") made a movie about their experiences with AVIRA-project to promote the concept in Europe. Enjoy this heartwarming video!
December 12, 2014
The date for the CARE-North plus Final Conference has been set for
April 15-16th, 2015
and will take place at the Maritim Hotel in
Bremen, Germany.
Registration for the conference, hotel recommendations and a preliminary conference schedule will be made available for on the CARE-North plus website shortly.
If you have any questions, please contact the project team at: care-north@umwelt.bremen.de
November 4, 2014
This week, at the 10-year cambio car sharing anniversary in Ghent, Belgium, Filip Watteeuw, City Counsellor for Transport, announced the Ghent Car Sharing Action Plan with the aim of having 20,000 car sharers in Ghent by 2020. Today, Ghent has 4,000 car sharing users, members of peer-to-peer and fleet owning car sharing operators.
The City of Ghent was inspired by the City of Bremen, who has the same ambition (http://www.care-north.eu/news/latest-news/european-sustainable-energy-aw...).
How Ghent got inspired?
Last February, during the CARE-North plus project meeting in Ghent, the partner Taxistop took advantage of the presence of the sustainable mobility experts by organising an evening event with presentations from the cities of Bremen and Malmö. Michael Glotz-Richter from Bremen presented Bremen's Car Sharing Action Plan to political representatives and the public of Ghent. Among the participants was Ann Plas, a representative of the City Counsellor for Transport in Ghent.
The Ghent Car Sharing Action Plan is part of a comprehensive mobility plan. Today, Ghent has 138,000 cars for 250,000 inhabitants. In the next years, Ghent expects the population to grow by 20,000 new inhabitants. To deal with the increasing number of cars, the city of Ghent has decided to implement an ambitious Car Sharing Plan. Ghent will organise various campaigns, increase the number of car sharing stations, give financial incentives to car sharing users, reduce the city car fleet and integrate car sharing into new city developments.
Later this year, representatives from Bremen and Ghent will meet each other to exchange experiences.
For more information, you can read more in the local media:
http://deredactie.be/cm/vrtnieuws/regio/oostvlaanderen/belga_20141013_ge...
September 24, 2014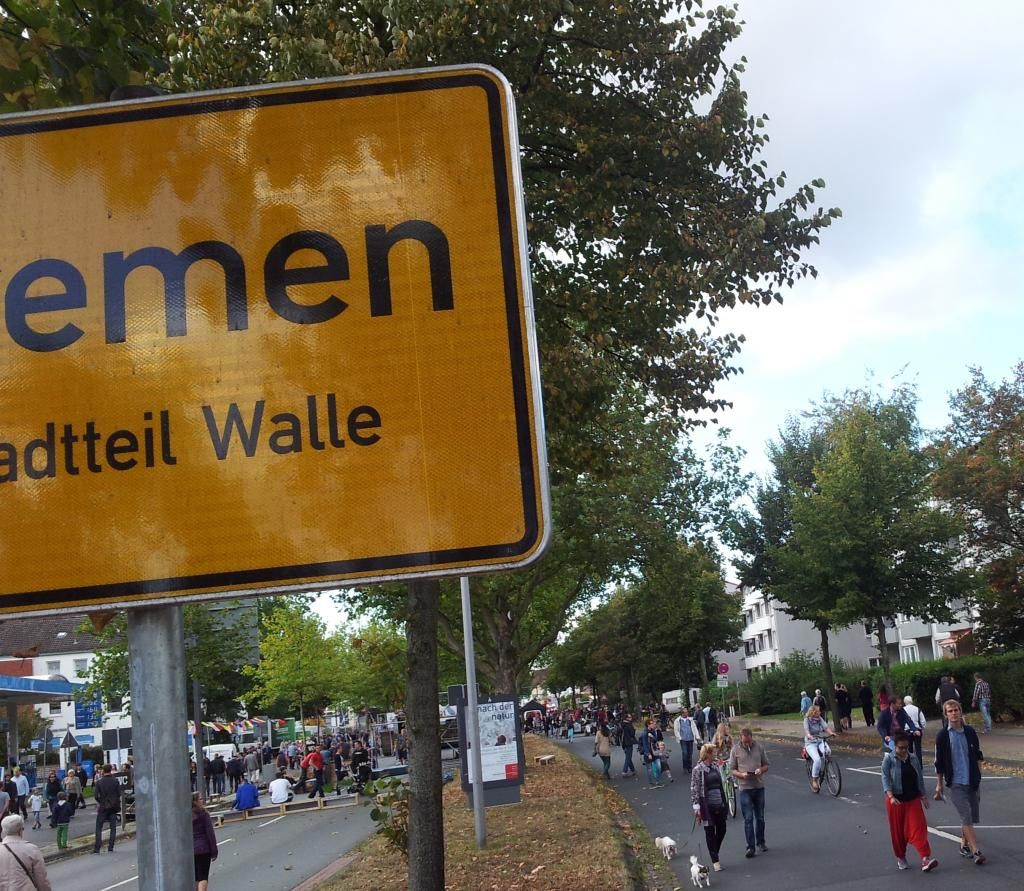 For the third year in succession, the Bremen's Car Free Festival "StadTraum" took place on September 21st on a road that is usually heavily used by motorised traffic. Each year, the festival takes place in a different neighbourhood of the city so that the citizens of each neighbourhood are able to experience what it is like when a place that is usually dominated by cars and trucks becomes available to the people. Visitors were able to stroll and ride their bikes along a 500 metre long segment of a four lane road that forms and simultaneously divides the centre of the neighbourhood. Visitors could enjoy the entertainment of a multitude of musicians and theatrical presentations, shop and participate in activities at infotainment stands, dine on the open-air table for 250 persons, pet the grazing cows or relax in lawn chairs on the adjacent roundabout. The annual motorway cycling tour that allows cyclists to ride on stretches of motorways only accessible to cars was attended by around 3500 cyclists with bicycles of all sizes and shapes and the cargo bike race, which required participants to complete tasks such as loading and unloading cargo, putting on rain clothing and navigating through obstacles on the road, was also a major highlight of the event.
September 17, 2014
Sharing is becoming more and more mainstream. The online world and the new generations are the spinning motor of this (r)evolution. Autopia has been organising an annual car sharing fair in Belgium since 2011. This event is just like a common commercial exposition of cars but with a twist: every single car is shared by a number of persons! In addition, and to replace, for instance, the insurance and car-addicted companies, a very different and large spectrum of sharing initiatives will be presented. The main goal is to raise awareness and inform visitors to the fair about sustainable mobility and car sharing. During the event, workshops will be held to exchange knowledge between car sharing operators, private persons and governments.
This year's edition promises to be one of the best presentations of every operator of car sharing in Flanders. Also, some very innovative concepts are in the spotlight: such as local governments who share their own car fleet outside office hours with private persons and organisations who share adapted (wheelchair-friendly) cars and busses with every local residents. In addition, there will be large scale sharing concepts and organisations that can prove to visitors that everything is shareable, including books, working gear, clothes, knowledge and much more! Visitors will find an organisation to guide them through the sharing process.
Several workshops and performances will enrich the day even more. Visitors will be learning how to share private cars amongst neighbours and how to start a local exchange trading group. A give-away market will be held for people who want to give away unused things and a repair-café will offer the opportunity to repair household equipment, clothes, bikes, etc. Furthermore, people have the possibility to exchange clothes, books and, especially for the kids, exchange toy cars (to stay in the spirit of car sharing).
The concept of sharing will also be applied to the "Share Pub", where adults can enjoy a drink, two for the price of one, to encourage them to share a drink with another visitor. As an additional part of the entertainment programme and to put everything in perspective, a comedic anti-sharing team who will try to convince people to not share anything.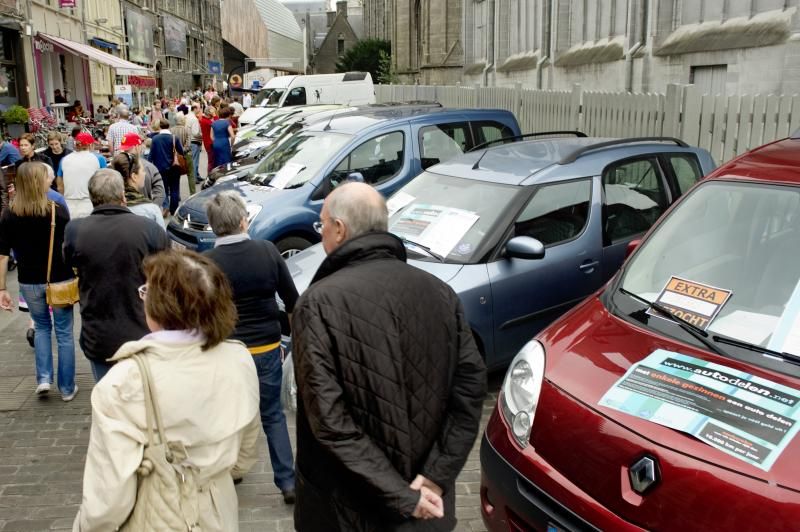 Photo by: Isabelle Ipousset
August 26, 2014
Taxistop's Car Free Day is becoming bigger and bigger each year. To date, 160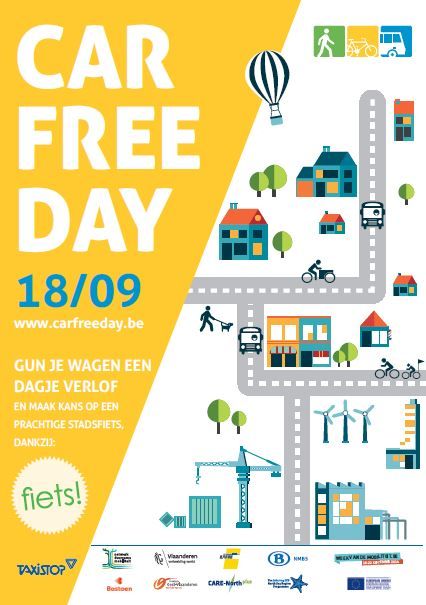 employers in Flanders have registered and engaged themselves to organise a special activity on the 18th of September. With still one month to go, the total number of participants of last year (which was 150 employers) has already been exceeded. All together, the participating organisations employ over 126,500 people.
These registered employers are very diverse. They are large private companies and small businesses. They are state institutions that employ over 10,000 people, local governments and little non-profit organisations. The actions they organise are sometimes small, like a breakfast or a little reward for sustainable commuters but a number of employers have also done a lot of effort to find an original approach. Some employers promise to offer an amount to charity per saved kilometre by car. Others will plant a tree for each employee that comes to work by bike.
The 2014 Car Free Day promises to be a spectacular one, not only with respect to the number of participating employers and employees: for the first time, a major Flemish radio station will support this day by organising a "Train-Tram-Busk-event". The radio station will encourage Flemish people to take public transport to work that day. They will organise performances of local artists on trains and bus platforms, and of course, every commuter can do a little performance himself/herself!
July 22, 2014
Today, the Bremen transport operator, the Bremer Straßenbahn AG (BSAG), presented a new, full battery electric 12 metre bus for a test drive. The bus will operate for three months on an existing bus line, through which the BSAG will learn about the advantages and disadvantages the particular model exhibits.