25 great minds driving towards '25
March 18th, 2015
On March 11th, 2015, Autopia and Taxistop invited 25 "great minds" to create scenarios for autonomous cars and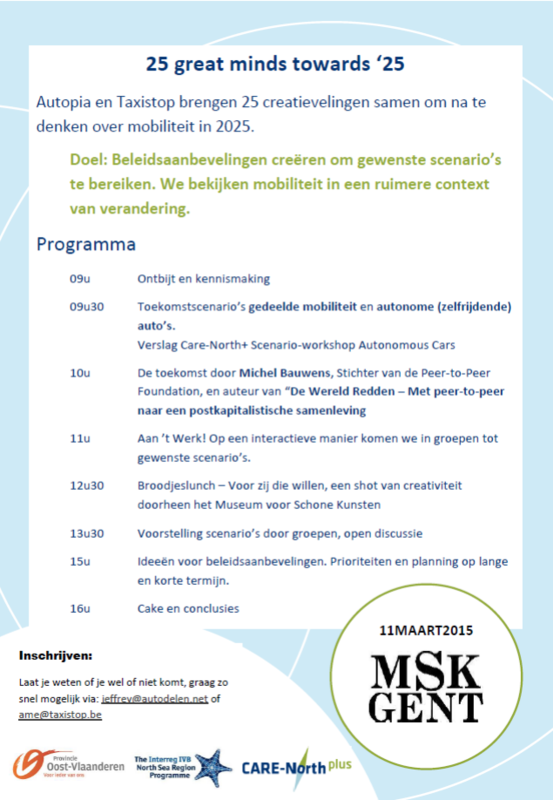 recommendations about how to remain on track with regard to sustainable mobility should autonomous vehicles become part of daily life in the future. The workshop, held in an art museum, was a continuation of the "Autonomous Transport Scenario Workshop" hosted by the city of Bremen in January 2015 with the aim of creating awareness for the subject in Flanders.
The 25 "great minds" were selected from different backgrounds. As the impact of autonomous cars could go far beyond the topic of transportation, philosophers, economists, and politicians were also invited in addition to transport planners. Among the participants was a member of the Flemish Parliament, a professor of entrepreneurship, a representative from the Belgian automotive association, public transport, the national railway, one member of each of the major political parties and transport researchers.
Jeffrey Matthijs (Autopia) opened the workshop with a general eye-opening presentation about the current status of the autonomous cars developments. Angelo Meuleman (Taxistop) presented outcomes from the workshop in January. After these presentations, Michel Bauwens gave a keynote presentation about an economic transition towards a peer-to-peer economy. Michel Bauwens is founder of the peer-to-peer foundation, and an international authority. He is listed at #82, on the Post-Carbon Institute (En)Rich list,http://enrichlist.org/the-list. In the same list you can also find Mahatma Gandhi, and at nr 1 E.F. Schumacher.
The purpose of inviting Michel Bauwens was to inspire ideas about how a society and its priorities can also change. A changing society also impacts transport and vice versa.
At the workshop, 3 different groups were invited to draw their utopia: their most likeable future scenario. In every
group, words such as equality, open data and shared mobility were very often used. In one group, a comparison with the energy market was made. After opening the market, the power of energy companies stayed very much concentrated and transition towards green production was very slow. However, today, we see more and more decentralised production by cooperatives in several countries. Consumers are regaining autonomy and transition is increasing.
During the second portion of the day, the groups wrote down policy recommendations to be taken on a short or longer term. Some of the recommendations for policy makers regarding how to deal with developments in autonomous transport were:
A condition to enter the market: Data about mobility patterns, road infrastructure has to become public.
It's not just about cars: always focus on modal shift and do not forget to integrate a modal shift to walking, cycling and public transport in future plans.
Give pilots a chance: create the right legal and technological conditions and focus on shared use of the cars.
It is planned to publish a report that summarises the main themes of the day.